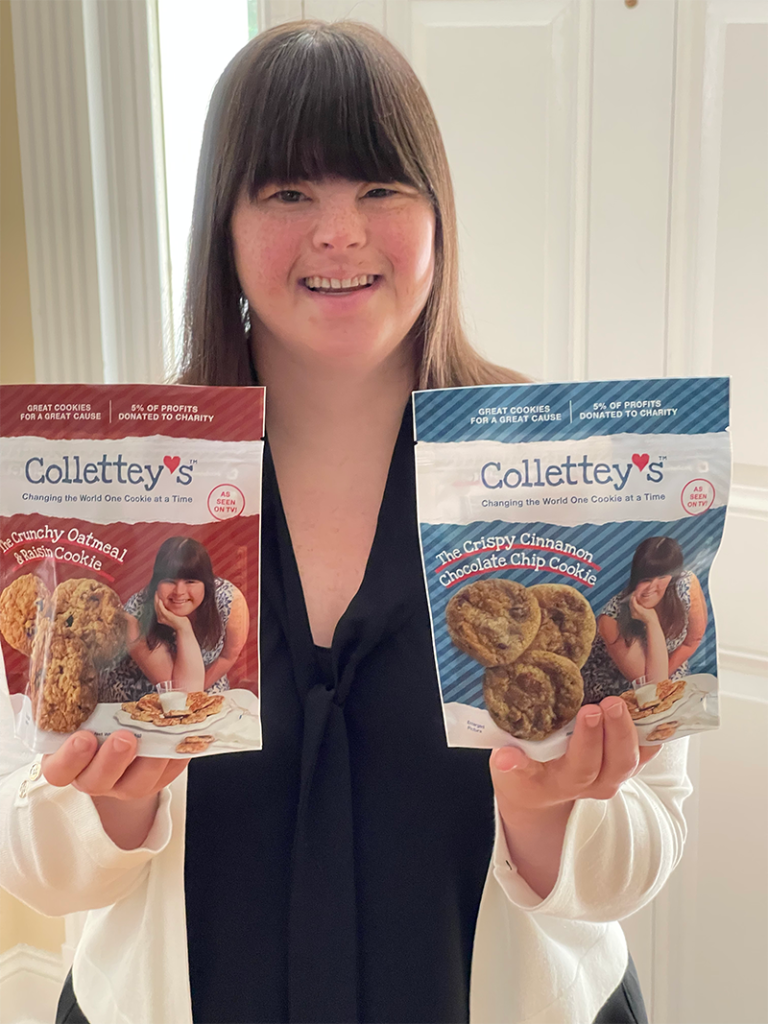 Here is where you can find my new cookies!
These are my NEW Bite Size Cookies – Crispy Chocolate Chip Cinnamon and Crunchy Oatmeal Raisin only sold in stores.
I am so excited to now have another line of product. I hope to get my cookies in stores across the country in every state. Keep checking back for new locations!  I am working on this everyday now!
Thank you for your support! 💓
WBC WEST INTER COMPANY – SALES
2200 NORTH LOOP ROAD ALAMEDA, CA 94502
The Pantry
1580 Post Road Fairfield, CT 6824
HOPKINS VINEYARD
25 HOPKINS ROAD NEW PRESTON, CT 06777
VILLARINA'S NEW MILFORD
123 DANBURY ROAD NEW MILFORD, CT 06776
THE MARKET AT ST CROIX
11501 NW 107TH STREET SUITE 105 MIAMI, FL 33178
ANNEBETH'S
46 MARYLAND AVE & PRINCE GEORGE ST ANNAPOLIS, MD 21401
Grosvenor Market, Inc
10401 Grosvenor Place Rockville, MD 20852
FISHPAWS MARKETPLACE
954 RITCHIE HWY ARNOLD, MD 21012
THE BIG CHEESE
47 RANDALL STREET ANNAPOLIS, MD 21401
TD GARDEN
100 Legends Way, Boston, MA 02114
ATLANTIC SPICE COMPANY
2 SHORE ROAD NORTH TRURO, MA 02652
CREAM RIDGE WINERY
145 ROUTE 539 CREAM RIDGE, NJ 08514
MARKET PLACE KITCHEN
265 STOCKBRIDGE ROAD GREAT BARRINGTON, MA 01257
SAVENORS – BOSTON
160 CHARLES STREET BOSTON, MA 02114
ANGEL FOODS
467 COMMERICIAL STREET PROVINCETOWN, MA 02657
CAPE ABILITIES
458 MAIN STREET DENNIS, MA 02638
EAST COAST PROVISIONS+SEAFOOD
167 HUMMOCK POND RD NANTUCKET, MA 02554
NORTH FALMOUTH CHEESE SHOP
402 NORTH FALMOUTH HWY NORTH FALMOUTH, MA 02556
THE CAVE
44 MAIN STREET GLOUCESTER, MA 01930
WINDHAM COUNTRY STORE INC.
124 INDIAN ROCK ROAD WINDHAM, NH 03087
FERRUCCI II
24 PROSPECT AVENUE LITTLE SILVER, NJ 07739
Great Foods Market
225 Kinderkamack Rd Oradell, NJ 07649
Steve's Main Street Market
41 WEST MAIN STREET Ramsey, NJ, NJ 7446
CREAM RIDGE WINERY
145 ROUTE 539 CREAM RIDGE, NJ 08514
GARDEN GREENHOUSE & NURSERY I
1943 ROUTE 9 NORTH CLERMONT, NJ 08210
GB WINE & SPIRITS
398 US 22 WEST GREEN BROOK, NJ 08812
YUMMY BAZAAR
70 SEWELL STREET GLASSBORO, NJ 08028
GENTILE FINE FOODS
1118 MADISON AVENUE New York, NY 10028
DUCK WALK VINEYARDS, INC
44535 MAIN ROAD SOUTHOLD, NY 11971
GREENBAY ORGANIC FOODS
31-14 30TH AVENUE ASTORIA, NY
LOCUST VALLEY MARKET
220 BIRCH HILL RD LOCUST VALLEY, NY 11560
PECK'S MARKET
2991 CHURCH ST. PINEPLAINS, NY 12567
WARWICK VALLEY WINE CO
114 LITTLE YORK RD. WARWICK, NY 10990
CUBA CHEESE SHOPPE
53 Genesee Street Cuba, NY 14727
GRACEFULLY #4
400 EAST 23RD STREET NEW YORK, NY 10010
HOLBROOK COTTAGE
1143 PLEASANTVILLE RD BRIARCLIFF MANOR, NY 10510
Zinu 658 Corp
744 Franklin Ave Brooklyn, NY 11238
SUNAC NATURAL MARKET BROOKLYN
440 UNION AVENUE BROOKLYN, NY 11211
GRAPES AND GOURMET
9 E FERRY WARF JAMESTOWN, RI 02835
THE MARKET AT PARK CITY
1500 SNOW CREEK DR PARK CITY, UT 84060
WINE OUTLET-MCCLEAN
6727 CURRAN ST McCLEAN, VA 22101